Rikjak Construction has been actively involved with design-build construction since 1993. We are a founding member of the Canadian Design Build Institute
as well as holding memberships in national and provincial construction associations. Rikjak Construction has provided design-build services for
numerous clients ranging from small structures to turn-key building projects with dollar values of $5,000.00 to $10 million. Our qualified staff has the
capability to assist our clients from concept to completion. Being involved at the beginning is the key to developing a pro-active relationship between
builder and customer so that goals can be achieved, budgets can be met and quality can be uncompromised.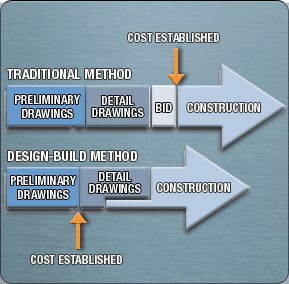 Design Build construction provides:
single source responsibility
improved risk management
greater cost effectiveness
reduction in overall construction schedule
greater control
Costs are established sooner - With design-build, your project cost can be established even before final construction drawings are done.
This can lower your preconstruction costs.

Rikjak's design-build process - gives you a single source to combine the design and build functions to increase communication
and eliminate confusion.

Innovative solutions - We will assemble a design-build project team consisting of professionals, construction consultants
and estimators to meet all your needs.
Multiple construction solutions - Rikjak provides a variety of quality structural, roof, wall and architectural systems that can meet any
budget or design challenge.

Single source responsibility - Rikjak is responsible for the entire project, and your single source for communication on your project.
This gives you more control by allowing you to make more decisions.

Time saving - By eliminating redesign and bidding, Rikjak gets you into your facility sooner.

More expertise - We bring years of experience to every project.
Check out our Gallery page to view some of our past design build projects.
Quantity Surveying
A Quantity Surveyor is a professional that holds certification from an accredited institution such as the Canadian Institute of Quantity Surveyors. They form a key part of the construction process by providing cost estimates, forecasts, analysis and reporting on the costs associated with construction projects. They provide valuable services such as:
Cost planning - establishing budgets and evaluating the cost effectiveness of a project.

Value Analysis - reviewing the functional requirements of a project to ensure value.

Project Finance Review - analyzing proposed budgets to ensure they are adequate to meet project specifications and duration.

Insurance replacement cost assessments.

Life cycle cost plans.

Material take-offs.

Project cost review for progress draws/billings.
Contact us to find out more about these services and what we can provide.
New construction and renovations.
Industrial; civil work, concrete work, structural work and building envelope.
Institutional; long term health care, banks, schools, medical facilities.
Commercial; hotels, apartment buildings, retail outlets, offices and warehouses.
Partial Client List:
Acadia University
ABCO Industries
Annapolis Valley Regional Centre for Education
Clearwater Fine Foods
Department of National Defence (DND)
Develop Nova Scotia
LaHave Investments Ltd.
Nova Scotia Department of Transportation & Infrastructure Renewal
Nova Scotia Community College
Nova Scotia Health Authority
Public Works Canada
Sea Crest Fisheries
South Shore Regional Centre for Education
Pre-Engineered Buildings - Butler
A steel building can be as simple as "shade and shelter" or as complex as you can imagine. We can integrate steel building components into a variety of
types of construction including wood frame, concrete or masonry. Standing seam metal roofs outlast bituminous roofs. Architectural metal panels
can be any colour, a variety of profiles, and incorporate flat, embossed, corrugated or stucco finishes. Pre-finished sandwich panels with up to R-30
insulation are available. Clearspan and posted frames enable you to maximize height and floor space without obstructions.
Uses for these buildings could be; offices, garages, utility buildings, factories, warehouses, arenas, auditoriums, retail stores or distribution centres.
We can provide pricing on any sized steel building, customized for your needs. Click below to email your request to our estimators.

Metal Roofing/Re-Roofing
A metal roof system can be an easy solution to common roof issues such as;
ponding or flooding problems on an existing flat or low sloped roof.

excess heat loss or gain due to minimal or un-insulated roof.

little or no architectural appeal to the look of the building.
A new roof can change the look of a building. Metal roofing comes in a variety of colours and can add architectural appeal along with energy efficiency savings.
Mansards, canopies or an alternate roof pitch can be added to change the look. "Cool" roofing panels can be used to reflect excess heat gain and new insulation
can increase the R-value of the roof and save on energy costs.
Metal roofs can:
be installed right over an existing roof with little or no interruption to the business below. Saving you the costs of removing and disposing of the old roof.

provide lasting durability as the roof panels are permanently seamed together 360 degrees to assure weathertightness. Along with trims, flashings and gutters that are designed to work collectively with the roof, they provide long-term performance.

allow for natural thermal movement during changing temperatures to avoid broken seams and joints.

can include accessories such as snow guards to protect customers and staff against falling ice and snow from the roof.
Insulated Metal Panels
These panels can be installed in any new or retrofit construction where temperature control and insulation R-values are essential. They can be used on walls, ceilings or roofs of cold storage buildings, schools, arenas, utility buildings and hospitals just to name a few. The panels have:
superior insulating value on walls and roofs.
lightweight to handle, but are strong and durable.
impermeable interior and exterior faces as the insulation inside is fully encapsulated by the panel skins and metal trim.
They offer different attractive finish options such as a stucco or precast concrete appearance, flat or ribbed panels and a multitude of colour choices.
Contact us to find out more on these increasing popular panels.
Cladding
Supply and install or supply only of cladding and roofing products from Butler, Ideal Roofing, MetlSpan, Vicwest, Steelway and many more.
Building, Renovation or Product Enquiry?